EXTREME DURABILITY WITH FULL CUSTOMIZATION
The robust Suunto EON Steel is designed for divers who demand the most of their dive computer. With the extremely durable construction, wide-angle BrightSee™ color screen and multiple gas support, this dive computer is ideal for advanced diving. Customizable features and views add a new dimension to your diving when exploring the blue unknown. Tested in the toughest diving conditions, Suunto EON Steel is your reliable partner in all conditions.
HIGHLIGHTS
Tailor your Suunto EON Core or EON Steel to show exactly what you want thanks to the Suunto CustomDisplay™. Simply connect your Suunto EON dive computer to Suunto DM5 and define which information is shown where or disable fields entirely to simplify views.
Read all the important diving details at a glance from a wide, legible screen. With the prominent view, the large numbers with vivid, high contrast colors are easy to see even in murky waters or when diving at night. Intuitive menus and a simple 3-button layout make Suunto EON dive computers very easy to use.
The Suunto EON dive computers are extensively tested and carefully hand-built in Finland.

Suunto EON Steel's robust mechanical construction is covered with brushed stainless steel bezel, heavy-duty housing and the highly durable and resistant Xensation™ glass, with guaranteed water resistance up to 150 meters.

Suunto EON Core's light-weight composite housing is comfortable on a wrist and the display's resistant mineral glass shields the screen from scratches. Choose the bezel color from pure white, fresh lime or always stylish black.
Connect wirelessly with Suunto Tank PODs to dive with up to 10 gas mixes. Choose to see or hide your tank pressure or gas consumption to keep track how much dive time you have left. Transfer your dives via wireless Bluetooth connection to Suunto Movescount App, where you can keep a record of your underwater explorations and share your adventures and underwater pictures with friends.
FEATURES
Water resistance 150 m (492 ft)
Customizable wide-angle BrightSee™ color screen
Rechargeable battery, 20 - 40 h per charge
Wireless mobile connectivity
User-updatable software
Gauge/Air/Nitrox/Trimix/CCR (fixed point)
Multiple tank pressure reading (with Suunto Tank POD)
Tilt compensated 3D digital compass
Compatible with

 

TANK POD Transmitter
SPECS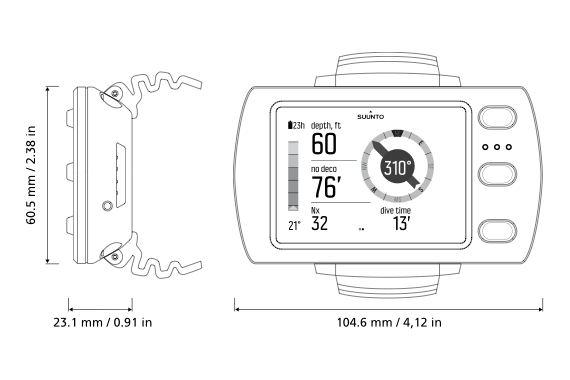 | | |
| --- | --- |
| Measurements | 104.6 x 60.5 x 23.1 mm / 4.12 x 2.38 x 0.91 " |
| Weight | 347 g / 12.24 oz |
| Bezel material: | Stainless steel |
| Glass material: | Xensation Glass |
| Case material: | Composite |
| Strap material: | Elastomer |
| What's in the box? | Suunto EON Steel, USB Cable, Quick Guide, Legal leaflet, Protective boot, Display scratch guard sticker, Bungee adapter and cord |
FULL CUSTOMIZATION
Customize features with Suunto CustomDisplay™ in

 

Suunto DM5
Classic, graphical and prominent view styles
Use with strap or bungee
SUPERIOR VIEWING
Wide-angle BrightSee™color screen
High contrast color screen with large numbers
Always-on LED backlight
Visually intuitive, consistent presentation
Flip display
EXTREME DURABILITY
Brushed stainless steel bezel
Highly durable Xensation™ glass
Robust mechanical construction
Extensively tested and built to last
Guaranteed to 150 m depth
Rechargeable battery (20-40 hours of dive time with one charge)
CONNECT AND TRANSFER
FOR ALL DIVING
Gauge/Air/Nitrox/Trimix/CCR (fixed point)
Suunto Fused™ RGBM for maximizing dive time
No-decompression dive planner
Tilt compensated 3D digital compass
User-updatable software
VIDEOS
1. FIRST TIME START UP:
2. GENERAL SETTINGS:
3. HOW TO UPDATE SOFTWARE WITH DM5: